Meet Attorney Jake Hudnut
Standing up to the government and advocating for the accused is what Jacob V. Hudnut (Jake) loves most about his work. Every day he aggressively defends people accused of crimes on both sides of the Hudson River — in New York and New Jersey. Jake currently manages a court-appointed practice through Hudnut Law, LLC and maintains private practice with Spar Bernstein, P.C.
To date, Jake has represented over 700 persons charged with felony crimes. He has successfully tried many felony cases to verdict in front of juries with excellent results for his clients – saving many from prison sentences of twenty years or longer. He is also a former public defender for the Jersey City municipal court, where he counseled countless individuals charged with misdemeanors and motor vehicle offenses.
Jake's career began as a Special Assistant to a Commissioner of the Port Authority of New York & New Jersey, working alongside regional leaders in business and government. After earning his law degree from Seton Hall Law, he was appointed law clerk to the Honorable Peter J. Vazquez, the Presiding Judge of New Jersey's largest criminal division.
Compassion and persistence are among an effective criminal defense attorney's most important characteristics. Jake credits his parents for instilling these qualities in him at a young age.
Click here to view Jake's Avvo profile and "10 out of 10" rating; and click here to view the Avvo rating process.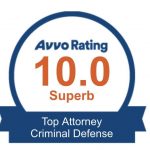 ___________________________________________________________
EDUCATION
B.A., cum laude, Political Science, Montclair State University (Student Body President)
J.D., Seton Hall Law School
COURT ADMISSIONS
State of New York
State of New Jersey
United States District Court of New Jersey
United States Southern District Court of New York
United States Eastern District Court of New York
AFFILIATIONS & COMMUNITY INVOLVEMENT
National Association of Criminal Defense Lawyers
Association of Criminal Defense Lawyers of New Jersey
Hudson County Bar Association, Trustee
Jersey City Employment and Training Program, Broad Member
Harsimus Cove Association, President
PUBLICATIONS & PRESENTATIONS
Op-ed: "Hudson County Jail A Death Sentence for Too Many," The Jersey Journal, Jan. 29, 2018
"Guns and the Law," New Jersey Office of the Public Defender Statewide Training, March 2016
"My Solo Adventure," New Jersey Lawyer Magazine, June 2012
NOTABLE CASES
Acquittal by jury trial of client who accepted three kilograms of cocaine by U.S. mail under police surveillance (arguing mistake)
Acquittal by jury trial of client charged with kidnapping based on video surveillance evidence (arguing consent)
Dismissal by suppression motion for client charged with weapon and drug possession (arguing coercive police conduct)
Dismissal for client charged with armed robbery (arguing double jeopardy)
Probation for client charged with weapon possession despite presumption of imprisonment (arguing defense of others) – a first in Hudson County and upheld on appeal